CUSCO Adjustable Rear Upper Arms - BRZ ZC6 ZD8 86 ZN6 GR86 ZN8 VAB GRB GVB
CUSCO
SKU: 151550
PN: 965 474 L (965-474-L)
These are direct replacements for the factory upper arms and will provide enhanced handling characteristics. Camber angle can be refined with turn buckle allowing for adjustments to be made at anytime. Manufactured with superior materials for a much stronger construction along with the implementation of pillow balls for more reactive sports oriented bushing.
Get this and all your JDM at RHDJapan!!
Brand: CUSCO
Product: Adjustable Rear Upper Arms - BRZ ZC6 ZD8 86 ZN6 GR86 ZN8 VAB GRB GVB
Part Num: 965 474 L (965-474-L)

SPECIFICATIONS:
Type: Adjustable
Bushing Type: Strengthened Rubber
Joint Type: Knuckle Ball
Material: Steel Pipe
Adjustable Range: +15mm ~ -15mm

PRODUCT NOTES:
- At -35mm lowered ride height, sample specification alignment range.
- OEM Arm Rear Camber: - 2.5°
- Maximum Rear Camber: -7.5°
Compatibility is from maker for JDM cars only. We don't guarantee fitment. Always do your own research before purchase. After-sale support does not include installation support.
Subaru BRZ ZC6 Applied A FA20 (04/2012-09/2013)
Subaru BRZ ZC6 Applied B FA20 (09/2013-06/2014)
Subaru BRZ ZC6 Applied C FA20 (07/2014-01/2015)
Subaru BRZ ZC6 Applied D FA20 (02/2015-05/2016)
Subaru BRZ ZC6 Applied E FA20 (06/2016-09/2017)
Subaru BRZ ZC6 Applied F FA20 (10/2017-03/2021)
Subaru BRZ ZD8 FA24 (08/2021~)
Subaru Impreza WRX STI GRB Applied A EJ207 (10/2007-01/2009)
Subaru Impreza WRX STI GRB Applied B EJ207 (02/2009-06/2010)
Subaru Impreza WRX STI GRB Applied C EJ207 (07/2010-06/2012)
Subaru Impreza WRX STI GRB Applied D EJ207 (07/2012-05/2013)
Subaru Impreza WRX STI GRB Applied E EJ207 (06/2013-04/2014)
Subaru Impreza WRX STI GVB Applied C EJ207 (07/2010-06/2012)
Subaru Impreza WRX STI GVB Applied D EJ207 (07/2012-05/2013)
Subaru Impreza WRX STI GVB Applied E EJ207 (06/2013-04/2014)
Subaru WRX STi VAB Applied A EJ20 (08/2014-05/2015)
Subaru WRX STi VAB Applied B EJ20 (06/2015-05/2016)
Subaru WRX STi VAB Applied C EJ20 (06/2016-05/2017)
Subaru WRX STi VAB Applied D EJ20 (06/2017-05/2018)
Subaru WRX STi VAB Applied E EJ20 (06/2018-05/2019)
Subaru WRX STi VAB Applied F EJ20 (06/2019-04/2020)
Toyota 86 ZN6 FA20 (04/2012-08/2016)
Toyota 86 ZN6 FA20 (08/2016-03/2019)
Toyota 86 ZN6 FA20 (04/2019-10/2021)
Toyota GR86 ZN8 FA24 (10/2021~)
Customers who bought this product also purchased
List Price: ¥104,500
Sale Price: ¥89,348
You Save: ¥15,152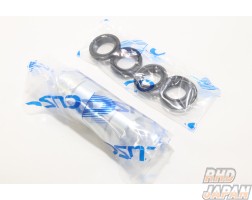 List Price: ¥23,100
Sale Price: ¥17,119
You Save: ¥5,981
List Price: ¥19,800
Sale Price: ¥19,359
You Save: ¥441