HKS Circle Earth System Option Parts - Additional Wire Kit
HKS
SKU: 18314
PN: 48004-AK002
This kit will come in handy for those who are looking for more grounding points within the engine bay with the use of the HKS Circle Earth System. As there are 24 points of grounding possible with the kit, the best way to achieve complete grounding efficiency is with the use of some extra wiring. Get this and all your JDM at RHDJapan!!
Brand: HKS
Product: Circle Earth System Option Parts - Additional Wire Kit
Part Num: 48004-AK002

Kit Includes:
- 1x Wire (3m)
- 4x Banding Band
Compatibility is from maker for JDM cars only. We don't guarantee fitment. Always do your own research before purchase.
Universal
Customers who bought this product also purchased
List Price: ¥18,480
Sale Price: ¥14,879
You Save: ¥3,601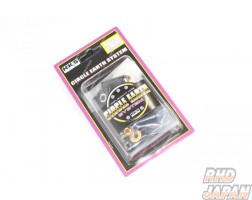 List Price: ¥2,860
Sale Price: ¥2,402
You Save: ¥458