TOM'S High Octane Gas Cap Fuel Sticker - Red
TOM'S
SKU: 94560
PN: 77315-TS001-R1
The sticker is a great way to finish off your Tom's powered car, and will leave no doubt what kind of gas you allow in your ride. Show your Tom's love with this great sticker. Get this and all your JDM at RHDJapan!!
Brand: TOM'S
Product: High Octane Gas Cap Fuel Sticker - Red
Part Num: 77315-TS001-R1

Compatibility is from maker for JDM cars only. We don't guarantee fitment. Always do your own research before purchase.
Universal
Customers who bought this product also purchased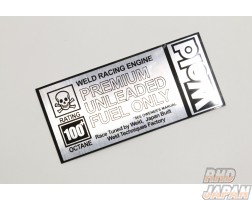 List Price: ¥660
Sale Price: ¥619
You Save: ¥41
List Price: ¥4,400
Sale Price: ¥3,699
You Save: ¥701