Trust GReddy Blow Off Valve Replacement Spring Type R - Standard
TRUST GREDDY
SKU: 97057
PN: 11900501
This is a replacement spring for the Type-R Blow Off Valve.
Get this and all your JDM at RHDJapan!!
Brand: Trust GReddy
Product: Blow Off Valve Replacement Spring Type R - Standard
Part Num.: 11900501

SPECIFICATIONS:
Spring Rate: Standard

COMPATIBILITY NOTES:
For Type-R Blow Off Valve


Compatibility is from maker for JDM cars only. We don't guarantee fitment. Always do your own research before purchase.
Universal
Customers who bought this product also purchased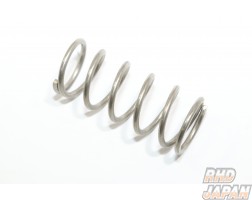 List Price: ¥4,400
Sale Price: ¥3,699
You Save: ¥701
List Price: ¥16,500
Sale Price: ¥13,289
You Save: ¥3,211
List Price: ¥18,700
Sale Price: ¥13,119
You Save: ¥5,581