Nismo Adjustable Fuel Pressure Regulator - Universal AN6
NISMO
SKU: 15690
PN: 22670-RR711
This item s a universal direct replacement of the OEM fuel rail attached regulators with AN6 Fittings. and will add the pressure adjustment function to your car. Nismo is the best for anything Nissan and is the top choice of all major Nissan tuners out there! Get this and all your JDM at RHDJapan!!
Brand: Nismo
Product: Adjustable Fuel Pressure Regulator - Universal AN6
Part Num: 22670-RR711

FEATURES:
Based on originally equipped light & small regulator , fuel pressure adjustment function is added. Adjustment range and relief ability is equal to that of standard regular sized type. By controlling fuel pressure, the most suitable setting can be made for the injector to deliver the best jetting performance.

PART INFORMATIONS:
Fuel line IN connection:
- AN6 screw connection

Fuel line OUT connection:
- AN6 screw connection

Connector part no.:
- 22672-RR711 (#6 fitting)

Attachment method:
- Match with bracket from body

SPECIFICATIONS:
- Fuel pressure adjustment range: 196-588kPa (flow volume 40L/h, 2 to 6kgf/cm2)
- Diaphragm diameter: 36.5
- Operating temperatures: -30 to 120 C
- Pressure slope: 157x10kPa/L/h
- Anti-vibration resistance: 250m/sec

PRODUCT NOTES:
- Resetting to match the engine control unit will be required.
Compatibility is from maker for JDM cars only. We don't guarantee fitment. Always do your own research before purchase.
Universal
Customers who bought this product also purchased
List Price: ¥28,080
Sale Price: ¥22,409
You Save: ¥5,671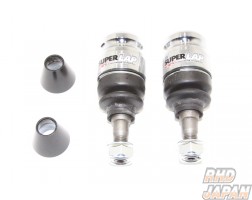 List Price: ¥28,600
Sale Price: ¥22,829
You Save: ¥5,771